Most of our current realities are chock full of stressors—unemployment, furloughs, layoffs, remote work, bills, COVID-19—a lot of unknowns. A lot of us are likely experiencing analysis paralysis if experiencing unexpected unemployment. Being shoved into the job seeking pool can be very stressful. We've put together a quick list of 6 tips to help you get into the job hunt mindset.
1. Be sure to update your resume. An outdated resume won't tell your story for you. Be mindful of what skills and experience you want to highlight. Once you've updated your resume, it will reinforce your confidence in your skills and what you have to offer.
2. Utilize your network. These are unprecedented times; don't be afraid to reach out to your network and ask questions.
3. Think about how your skills could translate into an industry that is more recession-proof and/or consider how your current industry could change/adapt in the coming months and what your position within the industry could look like.
4. Open yourself up to recruiters. Recruiters are good matchmakers and also have a vested interest in your success (i.e., job placement).
5. Brush up on your skills. If you're able, beef up your skills by taking a course. (You can find free courses via Coursera, for example, or paid courses through Entrepreneur Shop.)
6. Be proactive. Even the smallest of steps is one step closer to finding your next position!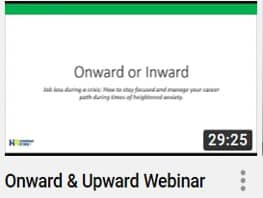 We hosted a webinar called "Onward or Inward" to answer frequently asked questions about job seeking. It's a great refresher for those who are finding themselves unexpectedly thrown into the job market. If you can spare 30 minutes, watch or listen to this recording of the webinar that's been made available by vCandidates.com. You'll gain invaluable insights from HR experts on navigating this tumultuous time of rising unemployment.
You're not alone and we're here to help!
---
At vCandidates.com, we are changing the way career transitions happen by creating a positive connection between technology and the human touch.
We're here to help. Reach out to us if you'd like to talk