Be a part of something remarkable.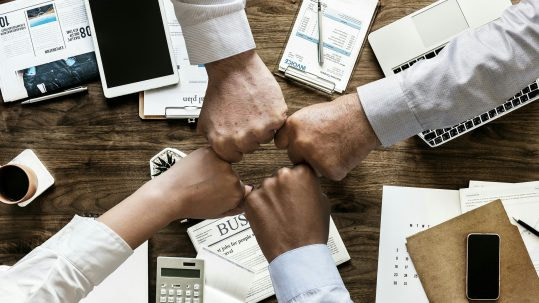 WHY WORK FOR US?
We're working hard each day to change the way candidates and recruiters connect. We're about the human touch – providing solutions and insights to both recruiters and candidates that encourages transparency and creates the best possible outcomes for all those involved.
We're a fast-moving team, and we push each other to be their individual best. We encourage collaboration and expect self-motivation.
Changing the status quo is never easy … for the right applicant, it's always lots of fun!
COMMUNICATION
We actively listen, contribute and share.
ETHICS
We do good, always.
INCLUSIVE
We respect each other.
LOYAL
We're unified in our movement towards our vision.
TEAM ORIENTED
We win together.
Hear from some of our team members!
Find out why LT's favorite TV show is, and how she applies it to our team.
Andy is a dedicated football fan, find out why that fits well here.
Hillary shares some insight into how vCandidates.com started.
Hear from Megumi why she love's being on the team.
Like what you see? Get started on your career journey with vCandidates.com today!
vCounselors
What we've got: vCandidates.com is here to change the experience that candidates have when looking to find a new career opportunity, while removing the pain that recruiters face when identifying, interviewing and presenting candidates to their clients. We've worked hard to provide the best technology has to offer while bringing back the human touch to the recruitment process. 
We are a fast-moving, fast growing team global team that is focused on building something truly remarkable. At vCanddiates.com, you'll be part of a driven group of professionals who aren't afraid to think outside the lines, challenge ideas and standards, and love to have fun while doing it.  
What we need: The vCounselor is the first point of human contact for our platform. This role will consist of providing helpful insight to our candidate subscribers and guide them on how to best utilize our site.
Moreover, vCounselors will engage with our candidate subscribers and help them navigate through our Online Candidate Self-Learning Bootcamp, providing resume and interviewing feedback, and helping them understand their DISC personality test results. 
The end goal is that the vCounselor has helped the candidate create the most comprehensive profile possible, and be fully prepared to interact with Recruiters and Employers.
The ideal candidates will have 2-4 years of HR, Recruiting, Coaching, or Customer Service Experience and has worked virtually with clients (candidates) to achieve desired outcomes. This role requires exceptional verbal communication skills and comfort with technology. Familiarity with social media and other job search tools is a plus.
Enterprise Sales Manager
What we've got: This is a great chance for an experienced and highly driven sales professional to define their role within a human capital startup. In the role of Enterprise Sales Manager (ESM), there is an opportunity for the right candidate to grow into our Director of Sales position if they are able to exceed their six-month quotas. The ideal candidate will introduce a new subscription to a cloud-based platform protecting the client's brand when offboarding or transitioning their workforce. As many believe onboarding practices are vital, we believe it is just as important to have a conclusive offboard transitioning program for all workforce members. The candidate has the ability to immediately close those clients who have a need for service as well as foster relationships.
The ESM is responsible for developing relationships with enterprise clients such as SMB and large companies as well as national employer benefit providers and outplacement companies who are looking to provide added value to their customers. This role has unlimited commission potential and is a great way for the ideal candidate to define their future role in our company.
What we need: The best way to describe you would be as a People-Person with social selling sales experience. You are driven by doing the right thing and value providing a solution with a purpose. Your ultimate goal is to assist customers with solving complex potential or current issues with a simplistic solution. You are personable, friendly, flexible, a high-achiever, outgoing and are down to earth and practical. You are the eyes and ears in the marketplace for our company and will help shape the overall sales process based on your intel.
You are an energetic, entrepreneurial-minded, and tech-savvy sales professional and understand the start-up business and sales mentality of making a lot of calls to gain initial traction and  momentum. You have a background in technical product or SaaS sales environments, so you know how to get past the "gatekeepers," develop relationships, gain the trust of prospects to work with us, prepare, and deliver solid product demos online to ultimately close business. You will work closely with the founder and other management team members but must have the ability to telecommute and manage your desk daily. Must be trainable.
Requirements:
At least two years selling tech products, SaaS services, payroll services or HR products
Must be a closer
Strong speaking and writing skills
Enthusiastic and demonstrated cold-calling and script-development skills
Able to 

understand the customer's requirements in a short time and present our solutions in a way that meets their needs

Good references from direct report and a customer
Able to telecommute and has a home office setup
Comfortable and capable using CRM systems
Quick thinker and good listener
Able to follow direction and able to share input with team
Must be able to work a full desk (research clients, follow up on warm leads provided to you and close deals)
Preferred Requirements:
4-year degree
Has a book of C-Level or HR clients
Has experience with HR/Payroll Tech experience
What you can get:
We will provide you with the training to fully understand our subscription services, a CRM subscription to build out company contacts.
If you are interested in this opportunity, apply here and spend time working through our career platform so that you can experience the product you will be selling.
Just because we are a startup, doesn't mean we can't have cool things …
Medical/Dental/Vision insurance plans
Generous time-off policy (PTO)
10+ company holidays each year
Flexible schedules or remote work
Ongoing learning and training
vCandidates.com
We are changing the way career transitions happen 
by creating a positive connection between technology and the human touch.