Is it Italian? Sushi? Tacos or Chocolate? Do you only crave Mexican or is Chinese food satisfying to you? Maybe you prefer the down home taste of soul food? Whatever your choice is, imagine eating that same dish or type of food for each meal for the rest of your life. Pretty bland, huh? Would you grow tired of it and crave something else? Or, would you become accustomed to the flavors that you once thought were your favorite; eating it day in and day out for years on end? My choice would be Chicken Wings (Bone-in) like the picture above.  I consider myself a connoisseur of chicken wings. It is my Calgon that takes me away from everything.  Devouring a batch brings me to my happy place. Yum!!
But…I wouldn't want to eat them every meal for the rest of my life.
This use to be one of my favorite questions when I screened candidates because you can tell a lot about a person by what they eat. How they take care of their body is telling of a person's emotional state, if they are regimented, and what they feel about themselves. Our cravings are clues to how secure we are overall, what we need to energize ourselves with to get up, tolerate the day and be productive. If we must have chocolate regularly are we indicating what is needed to stimulate our senses because some type of stimulation is lacking in a few areas of our life?
If variety is truly the spice of life, wouldn't it be true when it comes to diversity and a company's culture? Think about it. If having the ability to have a well-balanced diet is strongly suggested for living a healthy life, wouldn't that concept be true of incorporating different thought processes and productivity to the table?
The Diversity Conversation
With everything that has happened over the last few weeks, I thought about the above concept, as colleagues and media outlets contacted me to gain perspective on the diversity conversation. They wanted to know how hiring practices would be effected as we move forward from the ash and rumble of the riots. We discussed how many business owners felt ashamed that they may have overlooked implementing best practices that would encourage the stretching of ideas. They weren't bad people, just malnourished.
So, for those struggling with the thought of having to incorporate team members based on the color of their skin I ask them the same question about what they liked to eat. Having a well-balanced diet was no different than that offering talented men and women the opportunity to help create alternative perspectives based on their cultural differences. More importantly, I wanted to bridge the conversation away from solely focusing on black candidates as diversity is not one dimensional.
By its definition, the word diversity means the state of being diverse; variety; assortment which adds to a company's culture by:
Expands a company's thought processes.

Ability to gain skills that broaden your communication with communities and your stakeholders.

Provides a more widely view of the world.

Helps you understand yourself better by connection with differing ideologies.

Continued practice of diverse thinking and interaction stimulates, inspire, and connects us to those beyond our comfort zone.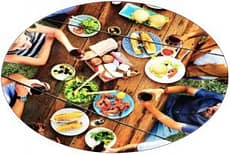 I like to think of diversity like enjoying our favorite foods and dishes but also having an appreciation for other delicacies that can be just as fulfilling. The best thing about diversity is the learning aspect of it. Albeit, through a diversified representation of age, cultural, political, and religious differences, diversity helps us evolve both individually and collectively.
Beside eating the same thing for the rest of your life will make your become closed minded and dull. I hope you will continue to indulge in the flavors of life and are able to invite others to a seat at your table.
Bon appetite.
---
At vCandidates.com, we are changing the way career transitions happen by creating a positive connection between technology and the human touch.
We're here to help. Reach out to us if you'd like to talk.