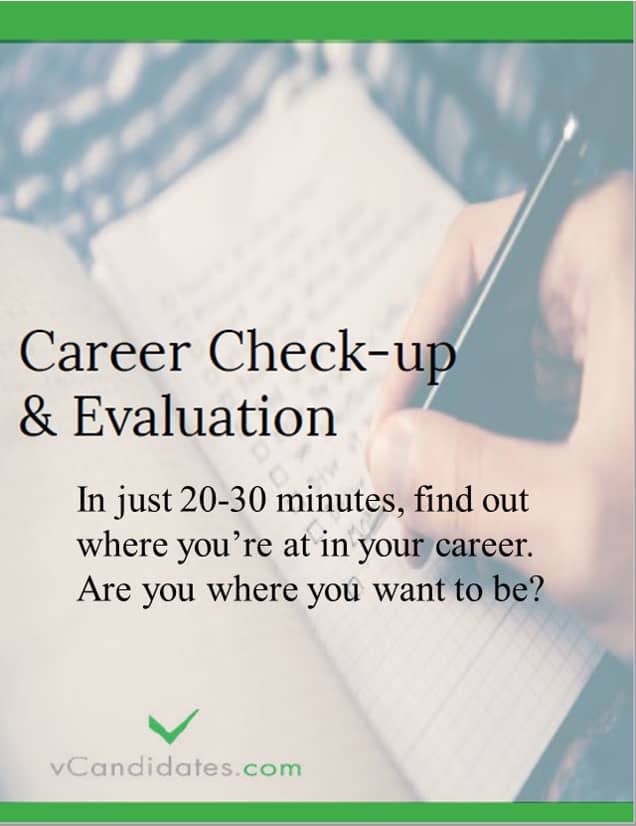 How's your career going?
Find out with our Career Check-up & Evaluation survey.
Here's what you'll get:
•  An honest self-evaluation of your career path.
•  Suggestions to help you advance in your career.
•  An opportunity to take an online career development boot camp.
•  A personalized private session with a career coach.

Here's a sampling of the questions you'll answer:
•  My job matches with my personality preferences.
•  Overall, I am happy with my work environment.
•  My relationships with company stakeholders are positive.
•  I am engaged in continual learning and development.
You'll add up your score (the number of "yes's" you marked).
You'll review an assessment and recommendations based on your score.

You'll be one step ahead in assessing what you might want to try next.
You'll have the opportunity of signing up in our Career Development program. At no cost.
We provide a confidential forum, a career development platform that connects job seekers with vetted recruiters who will seek them out, keep them informed and will be there to support them during the entire hiring process.
We are changing the way career transitions happen 
by creating a positive connection between technology and the human touch.