On Mondays, our team has weekly kickoff meetings in which we can discuss upcoming projects and issues. We like kicking off the meetings with one personal and one business "win" we experience during the last week. We are a "lovely bunch of coconuts," and we all enjoy each other's company. It is a great icebreaker to gain everyone's attention and an awesome way to bond with those telecommuting. We are a tight-knit bunch and not being able to work in the office has been a strain for me.
The pandemic has interrupted life has we know it but following the guidelines that were imposed statewide was imperative. Working at home with spouses, children and pets can be a bit nerve wrecking for all of us. As we all spend so much time on social media, I saw a post over the weekend asking, "What is the one word that describes your experience during these difficult times?" So, last Monday, I wanted to bring us a bit closer. On our weekly Zoom call, I asked this simple question to me team.
Describe with one word your experience of at home.
I think I threw my executive team off by asking this question before diving into our regular scheduled meeting. But, I loved their responses:
Team Member #1 – Gratitude – Grateful that they had the ability to focus on projects and spend time with family.
Team Member #2 – Comfortable – The ability to work from home office gave a sense of comfort and the ability to finish workload as the computer was always on making it easier dive into a heavy workload with ease all times of the day.
Team Member #3 – Productive – Happy to be able to focus on projects and complete them.
Team Member #4 – Productive – Felt productive cause they were able to cross things off our her to do list, even with her kids and husband at home.
Team Member #5 – Optimism – Because she believed we were going to get through this, individually and collectively. We have the have the right mindset, the right plan and the right resources.
My answer was simple, togetherness.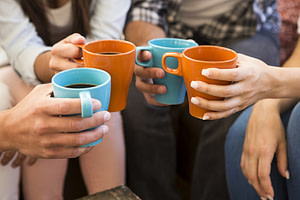 As the CEO of a startup, I'm up every day at 5:15 am and most often I work late four times a week. I have a long commute and I have no home office. As the COVID-19 restrictions where extended in the Phoenix area, I was dreading having to work with my husband and son at home. Having easy access to me from sunup to sundown would cause too many distractions. I usually prefer working at my office as working at home come
During this restrictive time and for my own mental health, I think it has been important to do the following "10 Things for Stability During Dark Times:"s with too many interruptions; including a puppy!
1. K.M.D.R. – Keep my regularly daily routine. I feel it is important to be consistent during the work week, i.e., getting up the same time each day (too much sleep makes an active person feel depressed).
2. Me, Myself and I – I sneak away to mediate and pray daily. This keeps me grounded and focused on what I need to accomplish daily. It's so important to do something you want to do daily so that you don't lose yourself.
3. Snack Away – I don't feeling guilty for snacking throughout the day because my snacks became healthier than if I were working at home.
4.. Shots of Whiskey – I make time to during the day to take 15 minutes to show my puppy, Whiskey, affection by playing fetch or chasing him around.
5. I Laugh – I make sure that I contact one friend each day to share a good laugh.
6. Acts of Kindness – I go out of my way to do something kind for my husband every day.
7. Dream On – I love dreaming about what I will do when the restrictions removed.
8. I Talk To Myself – Where else will I turn for expert advice? LOL. I actually find that I am able to plan my thoughts easier but posing questions to myself and searching for the answers instead of relying on team members.
9. Positive Thinking – I am an optimistic person by nature, and I make two calls to my friends who may be more pessimistic thinkers.
10. Got To Be There – Making sure that I am very responsive to my team's emails, texts and Slack messages. I don't want them to feel disconnected.
Once I got out of my head and from a work standpoint, I began to appreciate my team more, too. Seeing their work ethic and level of commitment to our company was awe inspiring.
So, I ask you. What is the one word that you would describe your experience during this time of course correction?
---
At vCandidates.com, we are changing the way career transitions happen by creating a positive connection between technology and the human touch.
Reach out to us if you'd like to talk.