DOES YOUR ORGANIZATION NEED OUTPLACEMENT?
WHAT'S IN IT FOR YOU?
WHAT'S IN IT FOR YOUR TRANSITIONING EMPLOYEES?
Millions of Americans could or have lost their jobs due to the COVID-19 pandemic. Many will get severance pay, as state governments require large employers to pay severance during mass layoffs often depending on the size of the business.***
And yet this pandemic knows no boundaries – it doesn't impact just large companies – it doesn't just hit Wall Street – it impacts Main Street, too.
As a business leader, CEO, COO, or HR executive you will continue to be forced to pivot, re-strategize, re-structure and re-think tough decisions today and in the coming months.
One of the hardest decisions will be the layoff of your loyal employees.
There is likely no task more difficult than informing an employee that his or her job has been eliminated or is being furloughed. Especially now.
They are the life of your organization – they are being impacted through no fault of their own. You've no doubt spent time recruiting them, investing in them and creating a culture and employee experience that has served you both well.
Human Capital decisions are business decisions – but this is different – the health care crisis has forced these decisions – it all just seems more personal.
SO, LET'S TALK ABOUT OUTPLACEMENT SERVICES
Outplacement is a service provided by employers to their displaced employees. It is an optional benefit given by a company to departing employees with the goal of supporting them during their career transitions. Outplacement services usually include career coaching, job search support, resume and interview preparation.
WHAT'S IN IT FOR YOU – AS A BUSINESS LEADER?
1. Helps to protect your "employer brand" and reputation.
• Companies that have a strong employer brand see an average decrease of 43% in the cost per candidate they hire.*
2. Helps to maintain existing employee morale knowing that their peers and friends are being taken care of.
3. Helps to better position your company to attract talent..
• 84% of job seekers say reputation of a company as an employer is important.**
And a company employee that is laid off today could be a consumer of the same company's products and services tomorrow – and may even be a returning employee in the future.
OUTPLACEMENT OPTIONS
Outplacement can be provided through a third-party outplacement solution company with dedicated resources and expertise in career transition. These services can run from several weeks to several months and are designed to support employees at various levels, from non-exempt to senior executives.
But not all outplacement solutions are the same. There are career coaches who offer similar, possibly cost- and time-intensive, services on a one-on-one basis. And, there's our program, vCandidates.com, which provides the employee, to be furloughed or let go, a platform to prepare themselves for their next career opportunity through a self-paced outplacement program including an online Boot Camp, a session with one of our counselors, a mock interview and direct connections with vetted recruiters.
Each solution has different price points, so conducting an assessment is important to identify what you can afford and what will represent a value opportunity for your employee.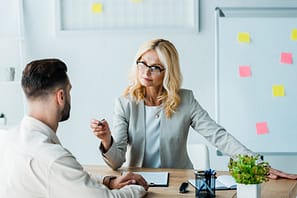 EMPLOYEE COMMUNICATIONS
After you carefully notify impacted employees, discuss with them the outplacement service(s) that you've decided to offer at the time of their exit interview/notification. Set a deadline to begin services within a week, or some other agreed-upon time frame, after termination. Consider making the outplacement decision a right for your employee, which will encourage them to follow up with the service(s) you selected.
FINAL THOUGHTS
We know that when your business is in lay-off mode, funds for extras like outplacement can be hard to come by. We also know that sifting through new state laws, federal regulations and best practices regarding severance eligibility will keep you and your HR team busy.*** And, that it is easy to lose sight of the importance of extending the employee experience through a compassionate exit strategy.
But, doing homework on different solutions can pay greater dividends short and long-term for you. Offering one or varied outplacement services can take some of the sting out of the layoff process for both parties. And, the way employees are treated as they exit has never been more important than it is at this moment in time.
---
At vCandidates.com, we are changing the way career transitions happen by creating a positive connection between technology and the human touch.
Surf our site. Reach out to us if you'd like to talk.
*Business 2 Community **Talent Now
***Please be and be sure to consult with your legal counsel about exiting protocols, state/federal requirements, including WARN compliance, as it relates to your specific business.